Feeling the need to get away? Jess here — I recently got to escape to Florida for a long weekend, and it couldn't have been easier. 
Enter: The newest airline at Columbia Metropolitan Airport (CAE), Silver Airways. With low-cost, direct flights from Columbia to 3 Florida destinations — Orlando, Tampa, and Ft. Lauderdale (Ft. Lauderdale is currently offline for the season, but plans to return soon) — you can plan a mini-vacay that doesn't break the bank (think: fares starting at $69 for 1-way).
The best part? Boarding the hot pink plane and arriving in Florida in ~2 hours. I already felt relaxed by the time we landed, and I still had the whole weekend ahead of me. Pro tip: Silver Airways offers these flights each weekend, leaving from CAE on Thursday evening and returning Sunday afternoon, so you only need to take the 1 day of PTO. Who's ready for a long weekend? 🌴
What we tried (with pricing): 
Before the flight and arriving at CAE, I pre-booked our parking online ($10/day for surface parking; see rates) to make parking at the airport a breeze. There is a new helpful system to light the way to the vacant parking spots so you won't waste time, or gas, searching for an open spot. 
Reminder: Don't forget your mask when you are collecting your luggage before heading inside the airport — as of Oct. 2021, the federal mask mandate for airports + flights is currently in place through Jan. 18, 2022.

Grab your masks + luggage and head to the gate at CAE | Photo via COLAtoday team
Traveling can be stressful, but with CAE's short wait times + helpful staff, I made it through security in less than 15 minutes. 
What not to miss:
After the TSA security checkpoint, don't take off without seeing the current Art in the Airport installation or grabbing a book from CAE's Little Library.

Don't miss seeing the Art in the Airport exhibit as you walk to your gate | Photo provided
When it's time to board, you can feel like a VIP walking on the tarmac to board the plane from the back. Once you find your seat, get ready for your vacation to take flight, literally.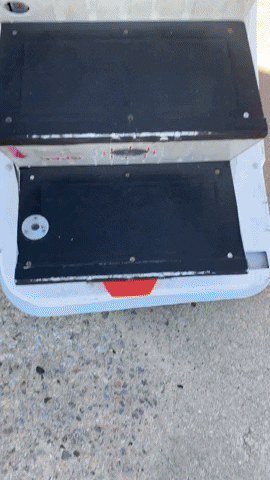 Hopped on a plane at CAE, with a dream and a cardigan… | Gif by the COLAtoday team
What we're still talking about: 
Your time in Florida will *fly* by, but returning home after a much-needed vacation will feel so sweet when you catch your flight back to CAE, knowing home is just a short drive away once you land. 

See you next time, Florida | Photo by the COLAtoday team 
Things to know if you go: 
Experience:

Flying to Florida with ease from Columbia Metropolitan Airport (CAE) 

Price:

Low-cost, direct flights available

here

(1-way starting at $69)

Website:

https://flycae.com/

 

Address:

3250 Airport Blvd., West Columbia, SC 29170

Hours:

Times vary depending on your flight destination