Okay, ladies now let's get in formation.

Galentine's Day (Feb. 13) has been the unofficial (but still pretty official) time to gather your girl group and celebrate the lovely ladies in your life for the last 10+ years.

Valentine's + Galentine's Day are very Americanized holidays — however other countries have days dedicated to love, too. Finland celebrates Ystavanpaiva, a day for both friends + lovers, and China recognizes Singles' Day in November to celebrate self-love. In Wales, they celebrate San Dwynwen on Jan. 25. During this holiday, lovers exchange handcrafted wooden spoons. In the Philippines, so many couples wish to get married on Valentine's Day that it has become popular to participate in a mass wedding. That's a whole lotta love.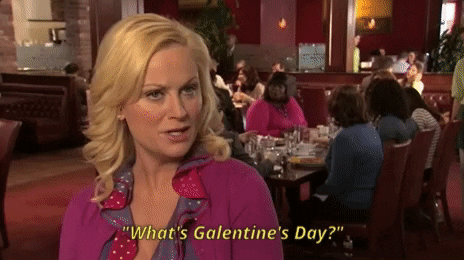 Whether you meet in person or gather the gals virtually, there is plenty happening in the Soda City. Here are some local suggestions to celebrate the best day with your besties.

🎨 For the artistas
○ Sign up for a paint and sip class at Studio Cellar or there are day-time zoom classes available for a virtual meet up. ProTip – Bottomless mimosas will be available for the Galentine's class for $12.
○ Pick up a pair of paint-your-own Cola mug kits or brunch glasses from the Mad Platter. The kits include two pieces of pottery, glazes, and brushes + to help sweeten the night, s'mores will be included.

☕ For the best-teas
○ Head out to Loveland Coffee's Lovely Ladies Galentine's pairing for a night out to enjoy dessert night with coffee and tea pairings + themed baked goods and chocolate.

🥂 For the cup clinkers
○ Sip on champagne today (Feb. 11) at the Galentines Party at Immersion from 6-9 p.m. ProTip – If you want to get any feelings out pre-Valentine's Day, there will be a piñata waiting for you.

💪 For the fitness femmes
○ Join Barre3 for an outdoor leisurely afternoon of cheese, prosecco + stretching during their prosecco tasting picnic yoga.

🛍️ For the shopaholics
○ Shop til you drop with all the local vendors at Soda City Market Saturday morning.

🍪 For the sweetest sisters
○ Reserve a spot to decorate cookies until your heart pops at the Graduate Columbia. A drink is included with your ticket.

| | | |
| --- | --- | --- |
|   | What TV show can we thank for introducing Galentine's Day? |   |
Weather
○ 64º | Scattered thunderstorms | 40% chance of rain

Coronavirus
○ On Mon., Feb. 15, the Columbia VA will host a vaccination site at the Colonial Life Arena from 7:30 a.m. to 4 p.m. for veterans (65 years and older). Appointments are required and can be made by calling 1-800-776-4000. (WIS)

Biz
○ Hollow Creek Distillery is expanding and is currently under construction on a new 5,000 sqft production facility, which will house an 800 gallon still. The six-year-old, locally owned distillery is located just off Highway 378 on Rocky Ridge Road. (Soda City Biz Wire)

Announced
○ The COMET announced that applications are being accepted for The COMET Academy's spring session, a five-week leadership program for those interested in understanding how public transit works. Space is limited for the free program and the deadline to apply is Feb. 24.

ComingSoon
○ Clean Juice Forest Acres is coming soon to the Cardinal Apartments complex off Forest Drive. The new juice bar will offer certified organic drinks and is currently hiring for the opening at the end of March.

Civic
○ The City of Columbia's Design/Development Review Commission will host a virtual meeting today at 4:00 p.m. View the agenda here and access the virtual meeting here.

Community
○ Richland County Recreation Commission is sharing some love with the senior community (50+) today. Stop by one of the five locations for health and wellness information, PPE, and Valentine's Day gifts (while supplies last). ❤️

SodaCitizen
○ Alex Blocker from Irmo High School International School for the Arts has been selected as a 2021 United States Senate Youth Program Scholarship winner by the South Carolina Department of Education. The junior is one of two South Carolina students chosen for the program that works with 100+ students nationally. This year the week-long study of the federal government will be held virtually. (Cola Daily)

BlackHistoryMonth
○ DYK that Richard T. Greener was the first African American professor at UofSC? Greener worked at the university from 1873 through 1877, taught philosophy, Latin, and Greek, and was also the first African American graduate of Harvard University. Visit his statue on campus outside of the Thomas Cooper Library and learn more about his story here.

TBT
○ Check out this vintage photo of Columbia Metropolitan Airport a la 1965. Part of the Richland Library Russell Maxey Photograph Collection, it depicts a terminal grand opening, balloons and all. 🎈Ⓟ

Click the button below for local resources regarding the coronavirus.
Mardi Gras is coming soon and while we may not be in NOLA, we can still celebrate locally. One of the most iconic parts of Mardi Gras is the food, so if you're craving cajun cuisine, Motor Supply announced that it is bringing back its Mardi Gras menu for a limited time. 🎭

Now through Feb. 15 dine on some delicious crawfish gnocchi, duck gumbo + more and let the good times roll.
#DYK that your photo could be featured in our newsletter? Just use #COLAtoday on social media.
Drink
○ Cheers to 50 Years | Thurs., Feb. 11 | 7 p.m. | Virtual | $25 | The SC Bar Foundation celebrates 50 years with a virtual mixology class. 🍸

Dish
○ February Harvest Dinner | Thurs., Feb. 11 | 6:30-9:30 p.m. | City Roots Farm | $85 | Enjoy a family-style, four-course, farm-to-table dinner with wine pairings. 🍽️

Talk
○ Let's Talk Race | Thurs., Feb. 11 | 6:30-8:30 p.m. | Virtual | Free | Join the discussion on race, equity, and inclusion with Richland Library. Register for more information.

Arts
○ Reopening Reception – Guided Tours | Thurs., Feb. 11 | 5:30-8:30 p.m. | UofSC McKissick Museum | Free | Stroll through new exhibits on display. Space is limited; reserve your timed ticket on Facebook. 🖼️

WaterCooler
○ Gamecock Women's Basketball vs. Mizzou Tigers | Thurs., Feb. 11 | 7 p.m. | Colonial Life Arena | $10+ | UofSC Women's Basketball takes on Mizzou at home. 🏀

Network
○ ReNu Connections – Networking for Women | Thurs., Feb. 11 | 4-6 p.m. | ReNu Physical Therapy and Wellness, 403 E. Main St., Lexington | Free | Take some time to meet new people and make business connections. 🤝

FeaturedEvent
○ On the Table Insights + Impact | Thurs., Feb. 11 | 12-12:30 p.m. | Virtual | Free | For the last three years, thousands of community members have voiced their opinions during On the Table conversations. Tune in to learn how these conversations are transforming our community, one conversation at a time. Ⓟ
Disclaimer: It is up to readers' discretion to determine whether they feel comfortable participating in any mentioned events based on COVID-19 protocols and precautions. If you have questions, please contact the event's organizers directly.
There's so much misinformation in the probiotic space. Enter: Seed. Seed has developed a quality probiotic backed by science, collabing with leading academic partners across microbiology, immunology, genetics + more.

Seed's Daily Synbiotic is an evidence-based prebiotic and probiotic formulated for systemic benefits — including digestive health (think: easy poops). It also contains strains that support gut immune function, micronutrient synthesis, cardiovascular health and dermatological health (read: good skin).

Snag 15% off with code 6AM15. Ⓟ
Answered: Yesterday, we quizzed your knowledge of local birds + asked how many species have been documented in South Carolina. About 62% of you answered correctly with 431 – y'all are owlsome.

🔄 Catch up on any newsletters you may have missed here.

💭 Say Hello: What do you want to know about your city?

✏️️ Want to write an article for us? Find out how here.

👀 Want your business featured in our newsletter? Learn more about advertising opportunities here.

📖 Check out our Editorial Ethics Policy here.
Did a friend forward this to you?
It can be in your inbox tomorrow a.m.
| | | |
| --- | --- | --- |
| @COLAtoday | Follow us. | #COLAtoday |
Let us know if we've missed anything and say

[email protected]
Disclaimer: Content marked with a
Ⓟ
is representative of our advertising partners.
Want to receive COLAtoday once a week instead? Update your preferences here.
Never want to hear from us again? Break our hearts by unsubscribing here.
Copyright © 6AM City, LLC, all rights reserved. Legal.
Greenville, SC 29602