Students, parents and teachers all have questions about what this school year will bring. 2020 has been unprecedented to say the least, so we did some digging to help break down the plans of school districts in the Midlands.

What we can all plan for is another year of learning + growing no matter if students are in person or virtual.

The first day of school will look different this year. So let's take a look at what we know.

Who said what?
🗣️Gov. Henry McMaster spoke about reopening schools at the State House on July 15. McMaster called for all schools to reopen in the fall and for school districts to allow parents to decide between five days a week in the classroom or virtual learning. The governor also recommended that schools wait to reopen until Sept. 8 in order to allow more time to finalize reopening plans.

🗣️SC Education Superintendent Molly Spearman agreed with McMaster that it is important to reopen schools. However, she said the decision of when to open should happen at the local level and should take into account community infection rates. More information on guidelines about back to school have been recommended by Accelerate ED. The full report can be found here.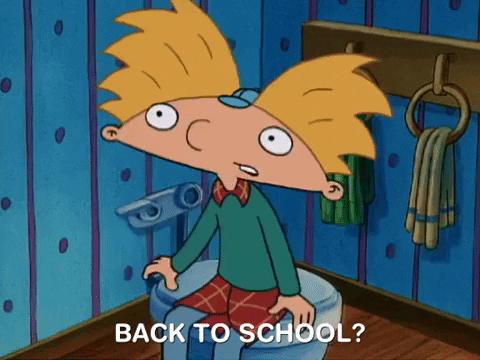 Back to school? | Gif via Giphy
What are the districts doing?
🍎 Richland One
Start Date: Aug. 31
Method: Virtual for the first four weeks
Richland County School District One is providing two options for students to go back to school with all students beginning the school year online. The #RestartStrong task force has recommended the first option will be entirely online the whole school year through the virtual school program. The alternative is a phased attendance option where students will begin online and slowly return to a classroom setting later in the year when the risk reduces from high to medium. School representatives will continue to update the #RestartStrong information here as the start date gets closer.

🍎 Richland Two
Start Date: Aug. 31
Method: Hybrid + virtual
Richland School District Two announced that phase one for its schools will include students beginning the school year virtually. In the first phase, students can choose between virtual options available at their school or the R2ESchools Virtual Program, which was designed for families + children with underlying health concerns.

🍎 Lexington-Richland 5 School District
Start Date: Sept. 8
Method: Hybrid + virtual
Lexington-Richland School District Five announced that the hybrid model will blend face-to-face instruction and distance learning with students attending school in-person two days a week and learning virtually for three days. District officials said students will be assigned to one of two 'cohorts' and that parents and guardians with multiple students will have the ability to request that all of their children be placed in the same cohort.

The district will provide face coverings to all staff and any student who cannot provide their own. Masks are required while entering, exiting and moving throughout the building and during any congregant interaction inside and outside the classroom. Masks may be removed when students are seated at their work spaces.
| | | |
| --- | --- | --- |
|   | How do you feel about going back to school? |   |
 

| | |
| --- | --- |
| | We are ready for five days a week |

 
Coronavirus
○ Free COVID-19 testing will take place today from 8:30 a.m. – 1:30 p.m. at Willow Ridge Church, 104 Sycamore Tree Rd., Lexington. Symptoms, appointments and doctor's orders are not necessary but everyone is required to show a valid ID and wear a face mask.

○ Richland Library and Columbia Housing are working together to launch the Home-Spot initiative – a program focused on bringing high-speed internet access to underserved areas. Through July 2021, 65 Wi-Fi hotspots will be distributed to 26 communities across Richland County.

○ The Thomas Cooper Library at UofSC is reopening to faculty, staff and students on Monday, Aug. 3.

○ According to local real estate professionals, the coronavirus pandemic has not slowed the real estate market in Columbia, despite it changing the way houses are shown. In fact, houses are selling very quickly + often receiving multiple offers. It is believed this is due, in part, to the low interest rates that are currently available. (CRBR)

○ Check out this discussion with the head UofSC football coach, Will Muschamp, about his expectations for 2020 and the coronavirus. (WLTX)

Click the button below for local resources regarding the coronavirus.
Hey, there. Looking for today's #MustDo events? In accordance with the CDC's recommendations regarding public gatherings, we have decided to postpone public event coverage for the time being. We look forward to bringing you Columbia's #MustDo events soon (until then, feel free to submit your virtual events here).
#COLAtoday
Have you seen the new mural currently being painted on the corner of Harden and Gervais streets? The mural is funded through a partnership with Coca-Cola Bottling Co. Consolidated, OneColumbia, Mayor Steve Benjamin's office, Free Times, The General Mills + the Waverly Neighborhood.

We can't wait to see the finished work completed by Keith Tolen.

#DYK that your photo could be featured in our newsletter? Just use #COLAtoday on social media.
News Notes
Weather
○ 96º | Sunny | 20% chance of rain

SodaCitizen
○ Columbia artist Sanford Greene received an Eisner Award, along with his co-creators David Walker + Chuck Brown, for Best Continuing Series for their comic book titled "Bitter Root." The award, which is known as the Oscars of the comic industry, were presented to the comic, which tells the story of a Black family as they save humanity during the Harlem Renaissance. Read the first issue here. (Cola Daily)

Cause
○ The 24-hour Virtual Silent Auction for Palmetto Place, a fundraiser benefiting Palmetto Place's Unoccupied Youth Program, ends at 7 a.m. this morning. Proceeds will help support homeless teens in the area. (Cola Daily)

Ranked
○ 43. SC's ranking in a recent WalletHub survey listing the states with the best + worst school systems. The ranking looked at school performance, funding, safety, class size and teacher qualifications. Massachusetts ranked first while New Mexico was ranked last. (WalletHub)

WaterCooler
○ Former Columbia Fireflies pitcher Blake Taylor made his Major League debut last week playing for the Houston Astros. Taylor spent the 2017 season at Segra Park starting 17 of the 18 games he appeared in. He is the eighth former Fireflies player to play in the big leagues + the second Firefly to debut in the majors this season.

Community
○ Lexington Police Department is providing free box fans to those who need them as temperatures heat up. This is the tenth year of Operation: Cool Down, which is supported by individual donations of box fans from the community. Box fans can be picked up by those in need from Lexington Police Department, located at 111 Maiden Ln. Lexington, from 8 a.m.-5 p.m., Monday-Friday. (Cola Daily)

TryThis
○ The Columbia Fireflies have teamed up with Planet Fitness for weekly Fit Friday videos, feat. simple workouts you can do from home. This easy arm workout uses cans or water bottles in place of weights. 💪Ⓟ
○ Lowes Foods' Pick & Prep section is great for pre-cut packages of fruits and veggies, but DYK it also includes ready-to-go smoothie mixes? Just add OJ + you're good to go. 🍓Ⓟ

Drink
○ Cottontown Brew Lab is taking pre-orders for their Black is Beautiful beer this week for the release this Sunday, August 2. The specialty release beer is available in two-packs, four-packs and four-pack plus signature Black is Beautiful glassware.
○ All-natural green juice cleanse Organifi Green Juice is a fresh-tasting, 100% USDA certified organic superfood blend loaded with vitamins, minerals + antioxidants from 11 carefully-chosen superfoods. 250,000+ customers have kicked off their day with the detoxing green stuff. Shop here.

FeaturedJob
○ Midlands Reading Consortium (MRC), a volunteer tutoring initiative targeting pre-kindergarten through second-grade students that aren't reading on grade level, is seeking School Liaisons to enroll students in one-to-one reading engagement sessions + promote literacy through general outreach and community engagement. Learn more about the opportunity and how to apply here. Ⓟ
#Shareworthy
The Wrap
🔄 Catch up on any newsletters you may have missed here.

💭 Say Hello: What do you want to know about your city?

✏️️ Want to write an article for us? Find out how here.

👀 Want your business featured in our newsletter? Learn more about advertising opportunities here.
Did a friend forward this to you?
It can be in your inbox tomorrow a.m.
| | | |
| --- | --- | --- |
| @COLAtoday | Follow us. | #COLAtoday |
Let us know if we've missed anything and say

[email protected]
Disclaimer: Content marked with a
Ⓟ
is representative of our advertising partners.
Want to receive COLAtoday once a week instead? Update your preferences here.
Never want to hear from us again? Break our hearts by unsubscribing here.
Copyright © 6AM City, LLC, all rights reserved. Legal.
Greenville, SC 29602