Who doesn't love a good White Claw? If you somehow missed the summer of 2019 where White Claws seemingly took the world by storm, let us catch you up. White Claw Hard Seltzers are a popular spiked seltzer which come in a variety of flavors. You can check out the impressive making of the Claw + its success here. White Claw's success is largely responsible for the massive growth in the hard seltzer industry. So, why are we talking to you about White Claws? Other than clearly being our state's hard seltzer of choice…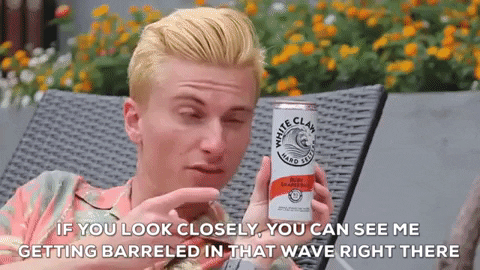 …on Tuesday evening, Gov. Henry McMaster's office announced that Mark Anthony Brewing will develop a $400 million, 1 million+ sq. ft. brewing facility in Richland County in the Pineview Industrial Park (off of Shop Road). That's some big bucks for our state. Right now, the only two other Mark Anthony Brewing manufacturing sites are in Glendale, AZ and Hillside, NJ.

This new facility will produce White Claw Hard Seltzer, Mike's Hard Lemonade, Mike's Harder Lemonade and Cayman Jack Cocktails to help keep up with the skyrocketing demand for these spiked drinks in the southern United States. In addition to production, warehousing and distribution operations will also be located at the facility. Once complete, the brewery will be one of the largest built in the country in 25 years. Whoa.

The timeline for the project is short – construction on the brewery will begin almost immediately + is expected to be complete – with the brewery fully operational – by summer 2021.

So, aside from being a White Claw connoisseur, why should you care?
The investment, which will create 300 jobs in the Midlands, is one of the largest in Richland County's history. Investments like this one help maintain and grow the local economy and, upon the business' success, generate increased tax revenue, which in turn benefits projects and needs within the community. According to the governor's release, the county was awarded a $4.6 million Set-Aside grant + a $1.5 million LocateSC grant. Read more about those here.

Interested in working at the new brewery when it opens? Find information on employment opportunities here.
We want to know – what's your favorite flavor of White Claw? Need some help deciding? Here's Food Network's unofficial "official" rating.
| | | |
| --- | --- | --- |
|   | What's your favorite flavor of White Claw? |   |
Weather
○ 76º | Thunderstorms | 100% chance of rain

Development
○ Yesterday, Allen University received a $1.5 million contribution from Boeing to assist with the Good Samaritan Waverly Hospital project, which broke ground on Allen University's campus in January. The hospital, which was originally built in 1950, will host civility classes + house the school of education once the project is complete. (WLTX)

City
○ Earlier this week, Columbia City Council voted against a proposed 90-unit townhome development near the Jim Hamilton-L.B. Owens Airport due to concerns over aviation safety and the plan's proximity to the runway. Council members also addressed the desire to maintain the "light industrial" zoning, which would have been rezoned to residential. (The State)

State
○ Although COVID-19 has reduced the state's projected budget, lawmakers are still expected to have approx. $1.2 billion to use in January. Earlier this week, a projected budget was released, which shows a growth rate of 1.7% for the general fund. Read more about the forecasted state budget here. (The State)

WaterCooler
○ Yesterday, Gamecock men's basketball's nonconference schedule was released. The team's season will kick off on Nov. 28 at the Hall of Fame Classic in Kansas City + they will play their first home game on Dec. 10 against Wofford. Check out the full nonconference schedule here. (WIS)

Biz
○ Four additional Columbia and Cayce-area Bi-Lo locations will soon switch to Food Lion, including the Devine Street and Knox Abbott Drive stores. The stores will continue to operate as Bi-Lo until early 2021. The deal was announced yesterday as part of a 62 store acquisition across NC, SC and GA. (Post and Courier)

Edu
○ Eddie's Study Studio, a new study program at EdVenture Children's Museum for elementary-age students in virtual learning, will begin on Monday, Nov. 16. The program will give students a classroom environment and allow parents to drop students off during the day (with after-school care available as well). Register here. (Cola Daily)

Announced
○ The National Parks Service announced that beginning Nov. 11, U.S. military veterans + Gold Star Families will be granted free lifetime access to all of the park service's parks + recreation areas. Learn more here. (WCSC)

Travel
○ ICYMI, low-cost airline Silver Airways will begin service out of Columbia Metropolitan Airport (CAE) on December 17, offering 2 nonstop flights per week to Tampa, Fort Lauderdale and Orlando for as low as $49. Silver Airways is CAE's fourth airline partner, after Delta, American and United. 🛫 Ⓟ

DYK
○ Copper is a natural germ-killing material that can reduce the spread of infection. Even before COVID-19, Lexington Medical Center knew it was a good idea to invest in copper coating in its newest patient care tower (and they were even featured on Radiolab for it). Learn more. Ⓟ

Click the button below for local resources regarding the coronavirus.
Riverbanks Zoo announced their newest addition this week, Bill the rhino. Bill is the largest rhino the zoo has had and came to Riverbanks from Rochester, NY.

Currently, Bill is getting accustomed to his new home behind-the-scenes and will soon meet Kande and Winnie, the other rhinos at the zoo.
#DYK that your photo could be featured in our newsletter? Just use #COLAtoday on social media.
Talk
○ Let's Talk Race: A Conversation with Culinary Historian Michael Twitty | Thurs., Nov. 12 | 6:30-7:30 p.m. | Virtual | Free | Award winning author and renowned chef will be talking about his book and offer his fresh perspective on race, southern cuisine and the cultural significance of soul food. 🥘

TryThis
○ Latin Night | Thurs., Nov. 12 | 12-3 a.m. | The Joint at 1710 Main | Free | Join DJ Angel for live Salsa, Latin Jazz, Merengue + Salsa lessons. 💃

Dish
○ Veuve Clicquot Wine Dinner | Thurs., Nov. 12 | 6:30-9 p.m. | Ruth's Chris Steak House | $125 | Indulge in a multiple course dinner paired with sparkling selections. 🍾

FeaturedEvents
○ Pups'n Pints + Golden Girl Trivia | Thurs., Nov. 12 | 6-9 p.m. | The Main Course | Free | In collaboration with River Rat Brewery, if you're a Golden Girls fan, bring your A-game. 🍺Ⓟ
○ Digital Diwali | Thurs., Nov. 12 | 6-9 p.m. | Virtual | Free | Celebrate India's festival of lights with bollywood dancing, Indian cooking demos, crafts + art. 🇮🇳 Ⓟ
○ Vegan Harvest Dinner | Thurs., Nov. 12 | 6-9 p.m. | The Main Course, 1614 Main Street | $50 | Chef James Scott will prepare a specialty vegan dinner for attendees at Goodlife Cafe. View the delicious menu in advance here. 🥕Ⓟ
Disclaimer: It is up to readers' discretion to determine whether they feel comfortable participating in any mentioned events based on COVID-19 protocols and precautions. If you have questions, please contact the event's organizers directly.
For when you've complained about your bra for the ten millionth time… consider throwing out that old, pokey-wired bra and say hello to wire-free comfort.

LIVELY bras are so comfy, their crew has coined them "the no-bra bras." Over 1 million have already been sold, and 70% of LIVELY's customers have gone wire-free.

Treat yourself to 15% off your first purchase when you use code 6AM. Ⓟ
🔄 Catch up on any newsletters you may have missed here.

💭 Say Hello: What do you want to know about your city?

✏️️ Want to write an article for us? Find out how here.

👀 Want your business featured in our newsletter? Learn more about advertising opportunities here.

📖 Check out our Editorial Ethics Policy here.
Did a friend forward this to you?
It can be in your inbox tomorrow a.m.
| | | |
| --- | --- | --- |
| @COLAtoday | Follow us. | #COLAtoday |
Let us know if we've missed anything and say

[email protected]
Disclaimer: Content marked with a
Ⓟ
is representative of our advertising partners.
Want to receive COLAtoday once a week instead? Update your preferences here.
Never want to hear from us again? Break our hearts by unsubscribing here.
Copyright © 6AM City, LLC, all rights reserved. Legal.
Greenville, SC 29602